INSPECTION CLOUD
One tool for all inspection data
Store, analyze and share your inspection data all in one convenient cloud portal
Trusted by companies around the world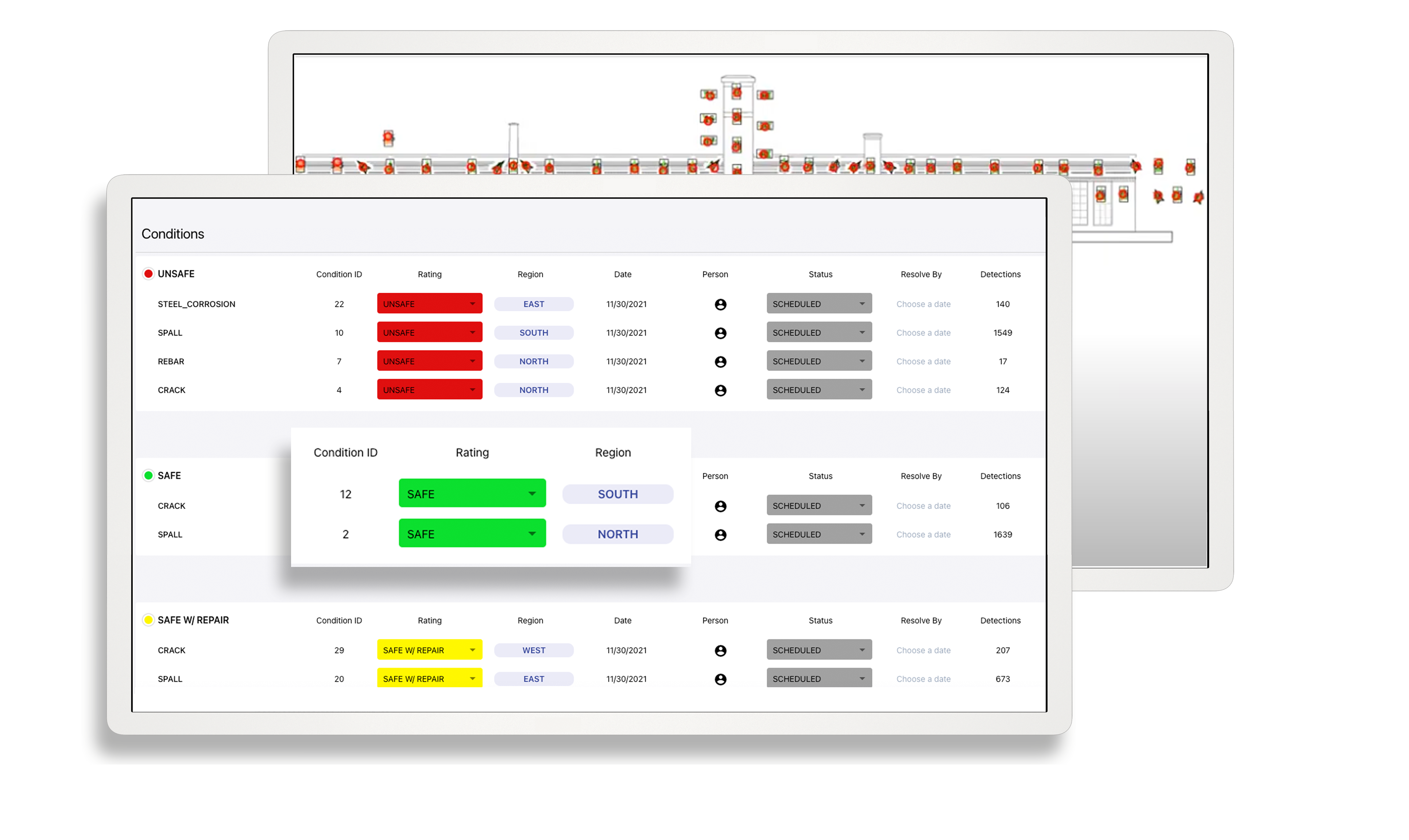 POWERFUL FEATURES
Your data. In the cloud.
T2D2's Inspection Cloud streamlines the most critical parts of structure and infrastructure inspection: data capture and analysis, structure monitoring, and damage assessments.
From any camera (mobile device, SLR, drone), store images to detect anomalies and other deterioration on facades and structures.
Transform captured inspection data into fast, accurate and actionable insight from data collection to preventative maintenance.
Visualize your client's asset on a cloud-based web portal trained on 3.5TB of imagery
Retain comprehensive, geotagged asset imagery for future reference and future inspections
Avoid regulator report rejections due to issues with photo quality or photo locations
Provide your clients with client user access to T2D2, enhancing your deliverable
Access a powerful set of integrations into business productivity, engineering and drone flight software
ORGANIZE YOUR ASSET INSPECTION
Get the most out of your data
Images

Orthomosaics

Videos

3D Models

Thermal Imaging

360° Walkthrough
Enhanced image analysis
Upload images for multistep inference through T2D2's computer vision models – first identifying materials and then detecting damage. Engineers can review the detections, add annotations to those that are valid, mark false positives and geotag specific locations on drawings of the structure.
Zoom out to visualize damage with precision
Since most orthomosaics (stitched composite images) provide a complete representation of a façade or roof, they don't include separate geotags. T2D2 applies orthomosaic models to mark damage and prevent double-counting of conditions on images with overlapping areas.
Take flight with video
T2D2 evaluates the individual frames of videos, tracking detections across multiple frames to filter out false positives.
Visualize your asset from all angles
Drone surveys of buildings often produce 3D photogrammetric models. T2D2 performs damage detection on the original 2D images and geotags the 3D model using the mapping from the photogrammetry process. The T2D2 portal lets you interact with the 3D model containing the associated detections. Also ask us about our ability to process LiDAR datasets.
Look beyond the visible
T2D2 processes thermographic or infrared images to detect anomalies such as leaks and moisture entrapment in façades and roofs.
Where drones can't go, 360
° cameras can
T2D2 processes 360-degree panoramic tours ("walkthrough"), adding damage-condition annotations and providing a platform for visualizing the combined results.
Hear what we have to say about inspection!
Sign up for T2D2's Inspection Matters blog, where we share our tips, tricks and insights to digital inspection. Learn the latest on artificial intelligence, inspection and historic preservation, drone operations, engineering software and more.